Zoho has launched several new features in its June 2020 release. These include some minor and some more impactful features. In this article we are exploring some of the latest features from the June 2020 edition of Zoho CRM.
Customer segmentation
Now you can segment the customers based on Segmentation Rules in Zoho. Zoho uses the RFM – Recency, Frequency and Monetary model for segmentation.
Webform analytics and testing
The forms in Zoho CRM can now have the tracking enabled which will give you analytics for the web forms within CRM.
Marketing attribution
Now CRM admins can choose the marketing attribution for campaigns and decide on the model based on which you can attribute the success to a campaign.
Cohort and quadrant analysis
New graphs are available in Dashboards for Cohort and Quadrant analysis –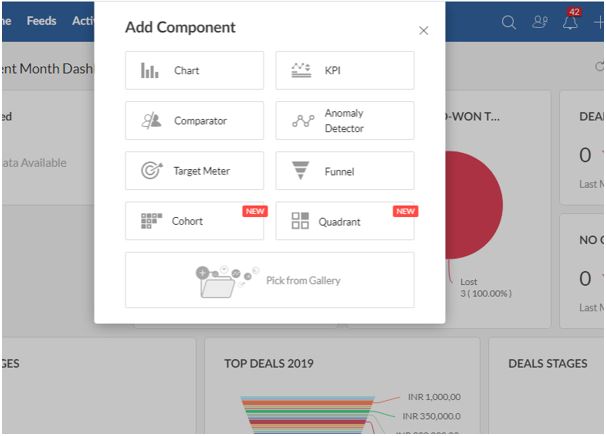 Analytics app
Zoho has launched a new Zoho CRM Analytics mobile app that can help the users access the Analytics dashboards while on move. Previously Zoho CRM dashboards were not accessible in mobile app.
Command Center
With CommenCenter admins can create and automate complex business processes that span multiple modules inside Zoho CRM.
Prediction Builder
Use Zia API powered prediction builder to predict the outcomes –
Zia recommendations and assignment suggestions
Now admins can define the recommendations within to guide and recommend users based on predefined criteria.
Zia for email
With Zia for email users now have access to greater intelligence based on emails –
Wizards
Wizards are a new customization feature that can help you create screen-by-screen forms with buttons and actions. This seamless flow is good for capturing data in a complex scenario like a call center agent taking instructions for vehicle insurance.
Multiple pipelines
Now admins can create multiple pipelines that will be linked to specific layout and stages.
Review process
With review processes you can design the process so that someone assigned can review a record fields and approve that.
Services and appointments
Zoho has launched a new appointment module for Service. This will be useful for any business-related service and is different from Meetings / Events.
The Service appointment is linked to the Service Catalog –
Call customization
Now users can record information such as purpose and reasons for the calls.
Call and email workflows
Workflows can now be created on Emails. There are several improvements to workflows and more actions are available now.
Custom Signals
Now admins can create custom Signals for customer interactions on third party websites, services or apps. As an admin you can customize how signals are displayed to make them more meaningful to your users.
Conclusion
Zoho's latest CRM release is packed with several features that leave the competitors behind. If you have any questions about the new features of Zoho CRM and want to consult our consultants on the new features to implement in your organization contact our Zoho Consulting Team.